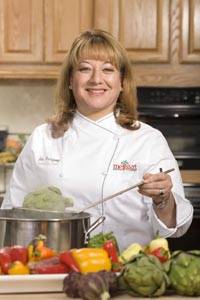 Chef Ida Rodriguez
Chef Ida Rodriguez has always had a passion for great food. Growing up in El Paso, Texas, Ida would spend every minute she could in her mother and grandmother's kitchens. "In those days, everything was made from scratch. Tortillas, mole, pasole, everything! We never went out to dinner; I was just amazed that they could make everything and make it taste so good!" Her developing passion for food was heightened during her many years living in Europe. She took every opportunity to learn as much as she could by taking cooking classes, meeting chefs and exploring the many different cuisines Europe had to offer.
Upon moving to the U.S., Ida had a tremendous wealth of knowledge about European food and culinary traditions that she couldn't wait to show off her knowledge. However, doing that was easier said than done; "I was so disappointed to find that I couldn't find the same ingredients here in the United States. You take for granted the quality of olive oil, provisions, mushrooms, and fresh vegetables available in Europe. Most of my time was spent locating substitutes. That's one of the many reasons why I love working at Melissa's, we help find these flavors."

Once joining Melissa's, she was able to bring every skill that she had gained to the table.

At least once a year, Chef Ida takes a trip abroad to continue her culinary education and expand her vast culinary and life experiences. Besides healthy cooking, Chef Ida likes to spend her time making crafts, traveling, and digitally scrapbook her adventures. Contact Chef Ida at hotline@melissas.com.