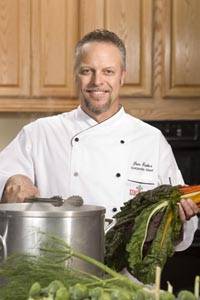 Chef Tom Fraker
From a very young age Chef Tom has appreciated good food and the art of cooking. "My earliest memories are of cooking with my mom when I was 5 or 6 years old. She taught me well throughout the years to come. I told her 'When I grow up, I'm going to be a chef.' So, naturally I went into construction. Go figure."
For seventeen years, Chef Tom rose up the ranks to become construction superintendent. "It was actually the events of 9/11 that changed my thinking and priorities, and I decided then and there, that very day, to go another path." Supported by his wife and family, Chef Tom resigned his position in construction and enrolled at The California School of Culinary Arts - Le Cordon Bleu, to follow his original dream of becoming a chef. Before finishing his studies at Le Cordon Bleu, Chef Tom joined Melissa's as a Corporate Chef.
Since joining Melissa's, Chef Tom has worked his way up to now manage the Melissa's Corporate kitchen. It is there that he works on the research and development of new and existing products, designing and testing recipes, and writing website recipes. In addition, as a Melissa's representative, he also attends and participates in charity events throughout the year and he attends trade shows and special events throughout the country. Chef Tom uses his creative culinary talents to create new and innovative recipes utilizing Melissa's unique fruits and vegetables.
Outside of the office, Chef Tom loves cooking Italian food, is as an avid sports fan, and a devoted father, who splits his time catering, playing with his kids, and attending his kids games. Contact Chef Tom at hotline@melissas.com.