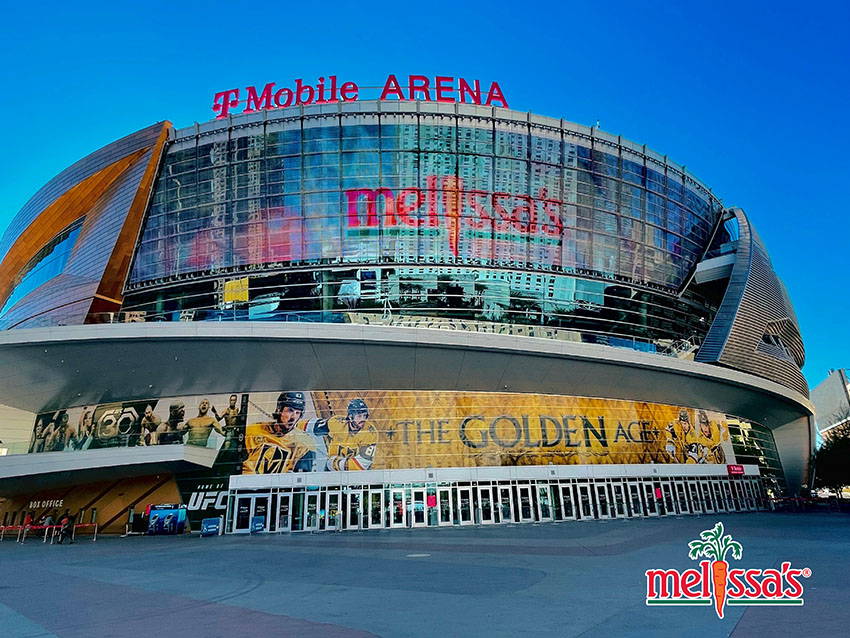 MELISSA'S PRODUCE NAMED OFFICIAL PARTNER OF
T-MOBILE ARENA IN LAS VEGAS
As the Official Produce Partner, Melissa's to elevate culinary experience at T-Mobile Arena with quality ingredients, robust flavors and healthy concession options
LAS VEGAS (November 1, 2023) ‒ Melissa's Produce and T-Mobile Arena today announced a multi-year partnership, designating Melissa's as the Official Produce Partner of T-Mobile Arena. The partnership, with a focus on providing Melissa's fresh ingredients and healthy options to arena guests, also includes the MGM Grand Garden Arena.
"Las Vegas, T-Mobile Arena and Melissa's all share a passion for entertainment and premium experiences," said Sharon Hernandez, the company's co-founder. "Melissa's high-quality fruits and vegetables will help set T-Mobile Arena apart and will bring the culinary program forward as part of that premium experience."
Through their involvement with dozens of sports teams and venues across the country, Melissa's has been instrumental in bringing fresh produce to sports fans and their local communities. The produce provider is now incorporated into concessions, clubs, suites and bars throughout T-Mobile Arena. Melissa's healthy offerings don't stop at fruits and vegetables – concessions throughout the venue are offering Melissa's Fruit Cups and Clean Snax®, a gluten-free snack made with chia and flax seeds that come in a variety of flavors.
Sally Bae, senior vice president, Global Partnerships at AEG, said, "We are thrilled to expand our partnership with Melissa's Produce at T-Mobile Arena and MGM Grand Garden Arena as the 'Official Produce Partner.' Melissa's is well-regarded for its unwavering commitment to quality and food safety, and they will undoubtedly provide the Levy culinary team with the finest ingredients, ensuring our guests continue to have the very best culinary experiences."
As a key player at the intersection of food and sports, Melissa's has been elevating the food scene across the U.S. for four decades. Melissa's products and services are sought out by a wide range of culinary professionals, from Michelin-starred chefs to foodies and home chefs alike, seeking the very best in sustainability, seasonality, quality and flavor.
ABOUT T-MOBILE ARENA
T-Mobile Arena, the 20,000-seat venue located on the Las Vegas Strip between Park MGM and New York-New York, opened April 6, 2016. The arena hosts more than 100 events annually including major headline entertainment, awards shows, UFC, boxing, basketball and other sporting events, family shows and special events. T-Mobile Arena also is the home of the Vegas Golden Knights, a National Hockey League expansion team and the city's first professional sports team, as well as UFC's exclusive Las Vegas arena destination. The venue, named the No. 1 venue on Billboard Magazine's 2018 Arena Power List as well as the "Best New Major Concert Venue" by Pollstar Magazine in 2016, features 50 luxury suites, more than two dozen private loge boxes, complete broadcast facilities, and other specially designed exclusive hospitality offerings and fan amenities destined to create a guest experience second to none. Toshiba Plaza, an adjacent two-acre outdoor entertainment space, features performance stages, a variety of video screens and other interactive content and display areas. Designed and built to prioritize environmental sustainability, T-Mobile Arena was awarded Leadership in Energy and Environmental Design® (LEED) Gold certification by the U.S. Green Building Council in 2016. T-Mobile Arena is a privately funded joint venture between AEG and MGM Resorts International (NYSE: MGM). For more information, visit T-Mobile Arena.com or follow on Facebook, Twitter and Instagram.
ABOUT MELISSA'S/ WORLD VARIETY PRODUCE, INC.
Melissa's is the nation's leading specialty produce distributor, delivering the freshest ideas in produce from the global market to your local grocery stores, favorite restaurants, and go-to sports venues. From year-round products to seasonal favorites, Melissa's provides quality ingredients that you rely on. For more information about Melissa's / World Variety Produce, please visit www.melissas.com or follow us @melissasproduce on Instagram, Facebook and Twitter.
###